Capacitors and Reactor Components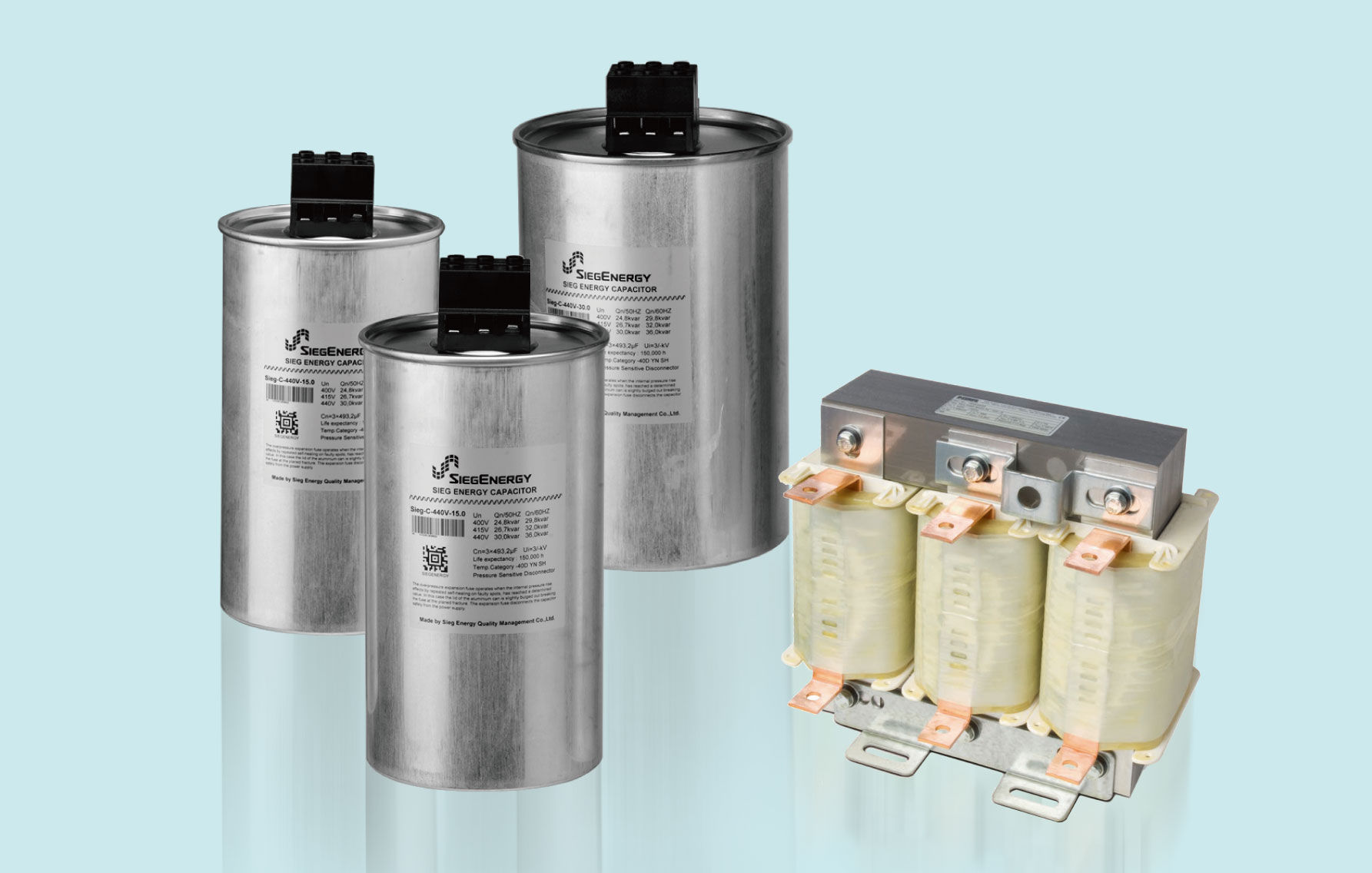 Capacitor characteristics
Dry capacity capacity (single) 2.5 to 37Kvar
Capacitor rated voltage 280,440,480,525 or 690V (special voltage can be customized)
Integrated discharge resistance
Protective terminal block
Each phase is equipped with a pressure-sensitive circuit breaker
Dedicated environmental protection resin
Long service life
Reactor characteristics
High linearity up to 2.5x (other customizable)
Capacity value (single) 2.5 to 75kvar
Low loss
Built-in temperature sensitive switch protection
Vacuum impregnation process, low noise operating characteristics
Easy to install
Long service life
Excellent impedance performance
Selection table
Voltage level

Transformer

General Industrial*

Type

General construction**

Model

400V

200kVA

60kvar

SIEG15-E7/400*4

……

45kvar

SIEG15-B14/400*3

……

400V

315kVA

80kvar

SIEG15-E7/400*2

SIEG25-E7/400*2

60kvar

SIEG15-B14/400*4

……

400V

400kVA

125kvar

SIEG25-E7/400*1

SIEG50-E7/400*2

80kvar

SIEG15-B14/400*2

SIEG25-B14/400*2

400V

500kVA

150kvar

SIEG25-E7/400*2

SIEG50-E7/400*2

100kvar

SIEG25-B14/400*2

SIEG50-B14/400*1

400V

630kVA

200kvar

SIEG25-E7/400*2

SIEG50-E7/400*3

125kvar

SIEG25-B14/400*1

SIEG50-B14/400*2

400V

800kVA

250kvar

SIEG50-E7/400*5

……

150kvar

SIEG25-B14/400*2

SIEG50-B14/400*2

400V

1000kVA

300kvar

SIEG50-E7/400*6

……

200kvar

SIEG25-B14/400*2

SIEG50-B14/400*2

400V

1200kVA

200kvar*2

SIEG50-E7/400*8

……

250kvar

SIEG50-B14/400*3

……

400V

1600kVA

250kvar*2

SIEG50-E7/400*10

……

300kvar

SIEG50-B14/400*6

……

400V

2000kVA

300kvar*2

SIEG50-E7/400*12

……

200 kvar * 2

SIEG50-B14/400*8

……

400V

2500kVA

250kvar*2

SIEG50-E7/400*15

……

250 kvar * 2

SIEG50-B14/400*10

……

230V

800kVA

100kvar

SIEG10-E7/230/1P*10
(分相补偿)

80kvar

SIEG10-B14/230/1P*8

……

230V

2500kVA

300kvar

SIEG20-E7/230/1P*15
(分相补偿)

200kvar

SIEG20-B14/230/1P*10

……
* General industrial sites, refers to the load for the three-phase balance and emotional distribution system.
** General construction site, refers to the load for the single-phase or three-phase unbalanced and emotional distribution system.
In the case of unlisted applications, consult SiegEnergy's technical support
Capacitor technical parameters
Reactive power compensation for power capacitors
Rated voltage and frequency
Un = 250, 280, 440, 480, 525, 690 or 900, 50/60 Hz (1000 V custom)
Maximum allowable operating voltage
1.0 x Un continuous; 1.1 x Un 8 hours / day; 1.15 x Un 30 minutes / day
1.2 x Un 200 x 5 min; 1.3 x Un an 200 x 1 min
Maximum allowable operating current
4.0 x In> 15.9 kvar
Maximum Instantaneous Inrush Current: 400 x In
Capacity error: + / - 5%
Run loss
<0.1 W / kvar, without discharge resistance
Test voltage (terminal - terminal)
2.15 x Unenn (AC), 2 sec
Test voltage (terminal - housing)
<= 660V: 3000V (AC), 10 seconds;> 660V: 6000V (AC), 10 seconds
Average life expectancy: 300,000 hours
Ambient temperature range: - 40/60 ° C
Maximum case temperature
The top of the housing is measured up to 65 ° C
Refrigeration: natural cooling (or forced cooling)
Relative humidity: 95%
Elevation: 4000 m
Place: indoors
Installation: Bottom M12 studs
Security features
- Dry technology
Self - healing technology
In the power distribution system, the switch operation will produce transient over-voltage, the peak may reach 3 times the rated voltage. At this point, the weakness of the media will be punctured, specially designed with a metal coating of polypropylene film has a good self-healing function, can make the capacitor to continue normal operation.
- Separate Independent Pressure Isolation Circuit Protection
When the capacitor reaches the service life or over time, overheating, the process of self-healing will continue to occur, the capacitor will produce a very high internal pressure, SIEG capacitor each phase has a pressure-sensitive circuit breaker, when the capacitor inside When the pressure reaches the threshold of the action, the top of the capacitor will be slightly raised, so that the pressure-sensitive circuit breaker action, which will disconnect the capacitor from the grid to avoid accidents.
Shell: aluminum protection
Level: IP 20
Dielectric: Polypropylene film
Fill: Dedicated environmentally friendly resin
Terminal: Bidirectional, three-phase terminal
Discharge: The terminal is connected to the discharge resistor
Standard: IEC 60831-1 + 2, EN 60831-1 + 2, VDE 0560-46 + 47
Reactor technical parameters
Reactive power compensation filter reactor
Rated voltage and frequency
400V / 50Hz + 6% ΔU (please refer to SIEG technical engineer for other voltage grades)
capacity
2.5 - 75 kvar
Inductance error
L (ILin) ≥ 0.95 LN / +/- 3%
Insulation
H-class insulation material, insulation up to 660V
Non-tuning factor (reactance coefficient) / resonant frequency
5.5% / 214 Hz; Linearity: 2.1 x Inom
7% / 189 Hz; Linearity: 2.1 x Inom
12.5% ​​/ 141 Hz; Linearity: 2.1 x Inom
14% / 134 Hz; Linearity: 2.1 x Inom
(Other may require customization)
Temperature protection
125 ° C temperature sensitive switch protection (250V-50Hz-2.5A)
Protection class
IP 00
Harmonic protection rating
Class I
Ambient temperature
Up to 45 ° C
Refrigeration
Natural cooling
standard
DIN EN 60289 (VDE 0532-289)
Note:
S = standard
L = cable / AW = copper busbar / RK = cable terminal
Product List
| | | | | |
| --- | --- | --- | --- | --- |
| Model | Output Capacity | Supply Voltage | Resonance frequency | Capacitor rated voltage |
| SIEG15-E5.5/400 | 15kvar | 400 V±10% | 214HZ | 480V |
| SIEG25-E5.5/400 | 25kvar | 400 V±10% | 214HZ | 480V |
| SIEG50-E5.5/400 | 50kvar | 400 V±10% | 214HZ | 480V |
| SIEG12.5-E7/400 | 12.5kvar | 400 V±10% | 189HZ | 480V |
| SIEG15-E7/400 | 15kvar | 400 V±10% | 189HZ | 480V |
| SIEG25-E7/400 | 25kvar | 400 V±10% | 189HZ | 480V |
| SIEG50-E7/400 | 50kvar | 400 V±10% | 189HZ | 480V |
| SIEG12.5-B12.5/400 | 12.5kvar | 400 V±10% | 141HZ | 525V |
| SIEG15-B12.5/400 | 15kvar | 400 V±10% | 141HZ | 525V |
| SIEG25-B12.5/400 | 25kvar | 400 V±10% | 141HZ | 525V |
| SIEG50-B12.5/400 | 50kvar | 400 V±10% | 141HZ | 525V |
| SIEG12.5-B14/400 | 12.5kvar | 400 V±10% | 134HZ | 525V |
| SIEG15-B14/400 | 15kvar | 400 V±10% | 134HZ | 525V |
| SIEG25-B14/400 | 25kvar | 400 V±10% | 134HZ | 525V |
| SIEG50-B14/400 | 50kvar | 400 V±10% | 134HZ | 525V |
Other capacity or size products may require customization